---
Dear Dr Barber:
On behalf of the Old English Sheepdog Club of America's Health and Research Committee, I extend a heartfelt thank you for the excellent seminar you presented as part of our National Specialty.
At a meeting of the Health and Research Committee this week, there was unanimous agreement that your presentation was one of the best we have had at a National. Your comfortable and humorous speaking style combined with the well organized and detailed content was perfect for this audience. Our members found it very informative and had a good time with you.
As a follow up to your seminar, we have received requests for copies of your handout. With your permission, we would like to post your handout on our OESCA health website. The material would be an excellent addition to our on-line resources. Please let me know if we have your approval.
I regret our schedules did not allow time for lunch with you and your husband. Hopefully at another time that will work out for us.
Thank you again for your contribution to the success of our 2011 OESCA National Specialty.
With best wishes,
Ann Lapp
OESCA Health and Research Committee
---
Mimi The Pembroke Corgi & Her Puppies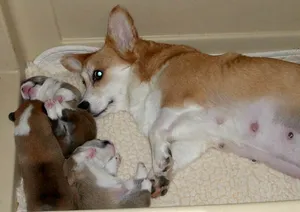 ---
Duncan - GCH Rubicon's He's So Fine - Westminster
*Veterinary Specialties At The Lake performed the breeding management and the surgical artificial insemination with frozen semen that resulted in Duncan and his 10 brothers and sisters mentioned in the article below. We did not do the section on her Emma (the bitch that died) but we have subsequetnly done others for her that have done well.
Simpsonville dog breeder Pam Rubinstein's emotions will be all over the map when her greyhound Duncan enters the ring next week at theWestminster Kennel Club Dog Show. She'll recall the joy of watching Emma, Dun-can's mother, bond with her neighbors' children, the horrors of watching Emma die shortly after giving birth to 11 puppies and the pride of how those puppies have turned out. Even if Duncan (his show name is GCH Rubicon's He's So Fine) doesn't earn special honors at West-minster, the tears are likely to flow just because he made it there and, in a way, so did Emma.
Emma was a show champion herself, but she also was a charmer who nuzzled her way into the family of one of Rubinstein's neighbors in Simpsonville. "They're all wonderful, but every once in a while, you come across one that's really special," Rubinstein said. "Emma was special." The neighbors' children loved cuddling with Em-ma, and she seemed to adore them in return. So Rubinstein gave Emma to them but retained the right to breed the dog. The breeding went well, but the birth went tragically wrong. Emma stood up after the operation at the veterinary office, took a few steps and then collapsed to the horror of Rubinstein and her neighbors. Efforts to revive her failed. Rubinstein bottle-fed the pups with a formula mimicking mother's milk every two hours for a week and a half, ensuring their immune system got the proper start. Amazingly, all 11 survived. One male, named Ian, helped fill the void for the neighbors and is their family pet, Rubinstein said. Six others have gone on to be top-notch show dogs, and Duncan, a 3-year-old, this week will be in one of the most prestigious shows in the country. "He's the dog that someday you hope you can have. He looks like a stallion," said Rubinstein, who is originally from Philadelphia but came to the Upstate when her husband took a job managing the Bi-Lo Center and has stayed in the area.
Duncan's category is being judged Monday at 11:15 a.m. Rubinstein, who also handles dogs in show rings, has a knee injury and has turned over the han
Video of Duncan on local TV station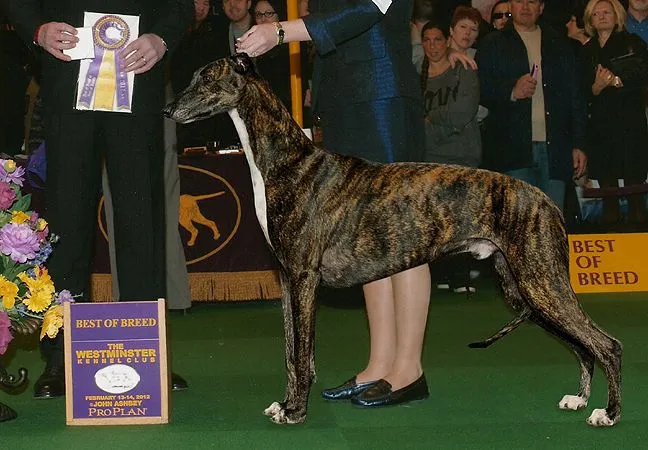 Duncan Winning Best Of Breed At The Westminster Kennel Club Show (2012)
---
It's Official
Ellie is in the Top Twenty!!! Not only is she in the Top Twenty, she is the Number 1 girl. I am just stunned and so thrilled for her and she did it at 8 years old. What a girl!! We just had to share the good news with all of you.
Benita Edds
---
Breeding 101: Dalmations
Dolly, Ch Green Starr's A Satin Doll, born in 2005, finished her championship with 5 majors with limited showing and is ready for her first breeding. Dolly's owner, Ada Luttrell has completed most of the health testing suggested for Dalmatians on Dolly and is ready to find her a stud dog. After countless hours researching pedigrees, reviewing photographs and speaking to other breeders, Mrs. Luttrell decides that Cass is the right dog for Dolly.
Cass, also known as ChGreenStarr's Colonel Joe was the top winning Dalmatian in the late '70's and early 80's. Now 20 years later, Cass is still the #4 All Time Ranked Dalmatian. But there's a little problem - Cass died nearly 25 years ago. Luckily, Cass has frozen semen stored.
Enter Dr. Jane Barber and Veterinary Specialties at the Lake.
Mrs. Luttrell contacted Veterinary Specialties in August 2009 with a simple e-mail stating that Dolly is due to come into estrus in late October. From there, Veterinary Specialties assisted Mrs. Luttrell with the completion of her health testing on Dolly (OFA radiographs). Once Dolly came into season in November, she returned to the clinic for a thorough health exam including vaginal cytology, pre-operative blood work, thyroid, brucellosis and progesterone testing. At this time, "Plan B" was discussed, which was to use another dog if the frozen semen from Cass was no good…after all, it is 25 years old.
Finally, on November 30, Dolly ovulated and Veterinary Specialties gave Mrs. Luttrell the news that Dolly would be bred, via surgical implantation, on December 3, 2010.
As Dolly was being prepped for surgery by the technicians, Dr. Barber retrieved the breeding unit of frozen Cass semen from her cryobank and began the thawing procedure. Post thaw motility was still at 60% and the surgery went ahead as planned using Cass.
The big day! December 31, 2010. Eager eyes entered the theriogenology exam room as Dolly was lifted onto the exam table and laid on her back for her ultrasound exam. Dolly's stomach was shaved and ultrasound gel applied. Dr. Barber begins her ultrasound examination. And then, there they were - at least six little gestational sacs, each with its own little miracle growing inside. All puppies image to be developing normally and even their little beating hearts can be seen. The surgery was a success! To ensure pregnancy hormones were at acceptable levels, Dolly had a repeat progesterone and thyroid test at this appointment as well.
Mrs. Luttrell and Dolly returned home to Tennessee. Pregnancy was closely monitored by WhelpWise and Karen Copley and a c-section was needed by local vet Dr James Robinson in close consultation with Dr Barber. Dolly delivered, not six, but NINE healthy puppies on January 29, 2010; four males and five females.
Dr. Jane Barber and Veterinary Specialties would like to thank Mrs. Ada Luttrell for her excellent planning, entrusting us with this very special breeding and sharing her story. Congratulation to you and Dolly!
Ch Green Starr's Colonel Joe x Ch Green Starr's A Satin Doll
---
Proud of Our Client Mary Gentlesk and her Dog Dieter
http://www.akc.org/news/rottweiler-leads-disabled-vietnam-vet-to-washington/