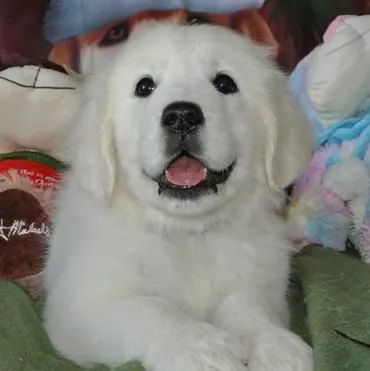 This beautiful pup was born a singleton just in time for Christmas, born 11/12/2015. Both mother and father are cream golden retrievers that were bred via artificial insemination with Dr. Barber's assistance. Moose on the other hand was born earlier in the year from a much larger litter. Both are adorable as anyone would agree.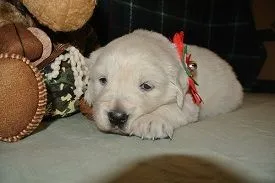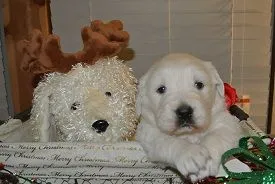 ---
Our Babies Are Here - 4 females and 4 males, black. Lily went into labor on January 2nd, Monday morning at 6:40.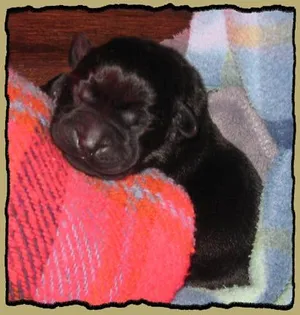 We confirmed pregnancy by ultrasound end of November, then, back to Dr. Jane for a term radiograph on December 29th for the first family photo. We saw 11 puppies at that time. Unfortunately, we lost three puppies........VERY SAD! The 9th puppy was malpositioned upside down presenting with his neck in extreme flexion instead of extension as would be normal. The crown of his head was bumping the bottom of Lily's pelvis and that is why she couldn't progress with her labor. Unfortunately, I had to take Lily for a C-Section, lost two of the three remaining puppies and don't know how in the world the third puppy remaining was alive as her cord was already detached but she made it and the clinic staff decided that she is "Amazing Grace" so we've been calling her "Gracie".
I lost the 8th puppy at home before taking Lily, only an hour and a half wait between puppies until I got impatient and decided something wasn't going well. I like to see a puppy every hour, so, we went to Dr. Jane, had a radiograph taken and really no way to extract the puppy, hence, the absolute dreaded C-Section. I had already long ago vowed that given the choice, I would rather lose a puppy as opposed to having to put Lily through surgery but that wasn't even an option. And all the while, early morning I was thinking, "Gee, Lily is having these puppies so quickly that we'll be finished by noon". As it turned out, I didn't get back home until almost 9 that night and not much sleep until last night. But......the puppies are lovely, growing, a four and five ounce gain since Monday so I feel they are well on their way to being beautiful, chunky, healthy babies, they certainly sound healthy :o)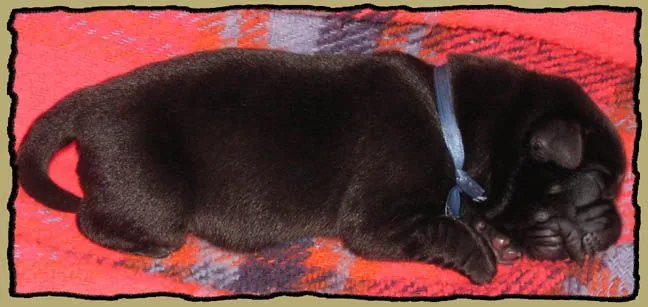 Lily is settling in nicely as a very attentive mother so that's a real blessing. This is Lily's second litter as a repeat with Secret. I intended to spay Lily after her first litter for no other reason than just not wanting to breed her again due to age but Dr. Jane said it would really be a shame as she was such a good mother, had the puppies without intervention and produced beautiful, show quality puppies from her prior litter. You should know that Dr. Jane is THE best in her field. She's a board certified reproductive specialist so breeding management is her specialty and how fortunate I am to be within 10 miles of THE best with THE best staff! During the C-Section on Monday, Dr. Jane said, "Gee, her uterus is in real good condition, I believe you could breed her again if you want to" and, my response was, "The next time you see this uterus, you'll be taking it out"!! For this decision, I look forward to having the right puppy to keep for myself - I kept two from the litter before because they were so nice!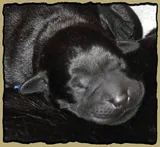 My sister friend Karen never misses the opportunity to be here when babies are in the house, and I'm so thankful for her. She's been here through a lot of dogs and puppies the past 8 or so years. I've attached a few pictures and will have more with my next update. My year started with "busy" and "blessed". I extend to each of you a very peaceful and blessed year as well.
Margo Carter
McNeil Labradors
---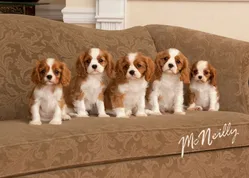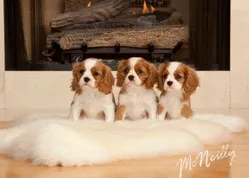 Age 4-1/2 and Betty Boop is a new mom thanks to Dr Jane! Betty Boop de Castelburry arrived from Paris Oct 2009 & we bred her to our AKC Grand Champion Angels Pride Walking on the Moon Sept 2010. On Nov 11 our five wonderful puppies arrived via C-section. We will be running on one girl & 2 boys as show prospects. Betty Boop became a wonderful & attentive mother. We couldn't be happier !!!
Born November 11, 2010
Sire: AKC Grand CH Angels Pride Walking on the Moon (German)
Dam: Betty Boop de Castelburry (French)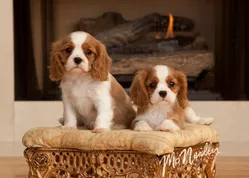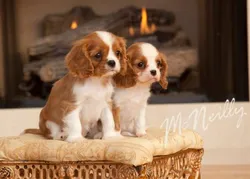 ---
Mother Morella is a frozen semen puppy [pupsicle] created with Jane's help 4 years ago. Morella's sire was from Sweden. Puppies are from frozen semen also. Sire was a stud dog for Guide Dogs for the Blind. One of these pups goes to become stud dog @ Can-Do-Canines in MN www.can-do-canines.org , providing Hearing Assist, Diabetic Assist, Mobility Assist, Autism Assist dogs throughout the country. One pup goes to breeder of the sire, respected canine behavorist MaryEllen Walsh, www.thinklikeyourdog.com , and 2 stay with the Anderson family -- one to Shenandoah west in Whidbey Island WA and the other @ Shenandoah/Ynda. NB its very hard to get pics of BLACK puppies !!!!! Dr Marti & Kenneth Anderson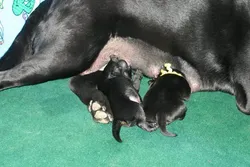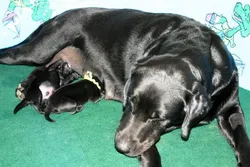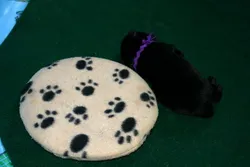 ---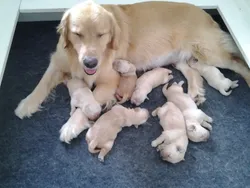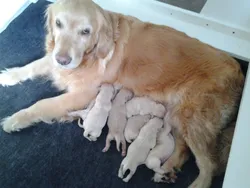 I want to send a heartfelt thank you to Dr. Barber and her staff. With the expertise of Dr. Barber, Peggy (Ch. Reflections You Give Me Fever) gave birth to seven beautiful puppies on April 16th (4 girls, 3 boys).

This would not have been possible without Dr. Barber's knowledge and guidance. I am so grateful for her patience and taking so much time to go over a plan of action and answering so many questions. From the moment you walk through the door, you are surrounded by warmth and confidence and you know you have come to the right place.

Again, thank you.

Jacqueline Testa
Golden Reflections Kennel